The impact of incubators… its not a new news story
October 21st 2019
Nesta have recently released their hotly anticipated research into the impact incubators, innovation centres and accelerators have on the SMEs they support, how to monitor and improve their activities and what policy-makers and funders should be looking for in these environments.
Following 18 months of polling all known incubators and accelerators throughout the UK on the growth of the businesses in their communities and the impact the support they provide has, they conclude:
Most startups consider the contribution of the incubator or accelerator they attended to have been significant or even vital to their success
Most types of support offered by incubators and accelerators are positively associated with at least one outcome measure, but few interventions can be positively linked with multiple outcomes
While some types of support offered by incubators and accelerators appear to have a direct impact on startup outcomes, others seem to be mediated by changes in startup behaviour
Incubators and Accelerators have positive spillover effects on the wider business ecosystem
While its great that this research, funded by BEIS, has been undertaken, it doesn't really tell us anything that we don't already know.
The Nesta research incorrectly states the UK's first incubator was St John's Innovation Centre in Cambridge. Actually, the UK's first incubator was in fact our Oxford Centre for Innovation, launched by The Oxford Trust a whole month before St John's in October 1987. 30+ years on, one of the latest incubators to open in the country is again in Oxford, again launched by The Oxford Trust and again managed by OI, Wood Centre for Innovation.
Even though 30 years have passed between the opening of these 2 incubators, their mission remains the same as envisaged by the Trust's founders, renowned entrepreneurs Martin and Audrey Wood, to provide:
(Really) flexible and affordable workspace – whether that's an office, workshop or laboratory
Access to early-stage funding, through our network of business angels, that fills the gap between what an entrepreneur can raise themselves through family and friends and what a Venture Capital firm might fund
Support from highly qualified mentors, coaches and other entrepreneurs through part-funded business support programmes
Those three founding principles are apparent in all of our 26 innovation centres across the UK today. And we know that these three things have a hugely positive impact on the 1,000+ SMEs we support (which incidentally is approximately a sixth of all SMEs supported by incubators in the UK according to the Nesta research).  How do we know this? We regularly monitor the growth of our centre customers and also the impact our innovation centres are having in their communities.
Our Business Survival and Growth report research identified what our customers valued most and felt had had the most impact on the growth of their businesses: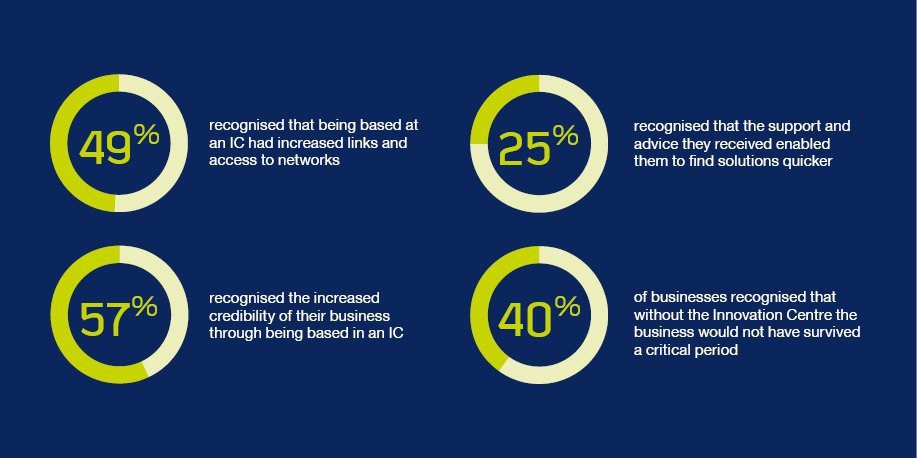 The Nesta research recommends LEPs should consider incubators, innovation centres and accelerators within their Local Industrial Strategies. We welcome this and recognise the roles our innovation centres have in their local economies and communities in bringing about real economic transformation. Here are just a few on the impacts our innovation centres have on localities: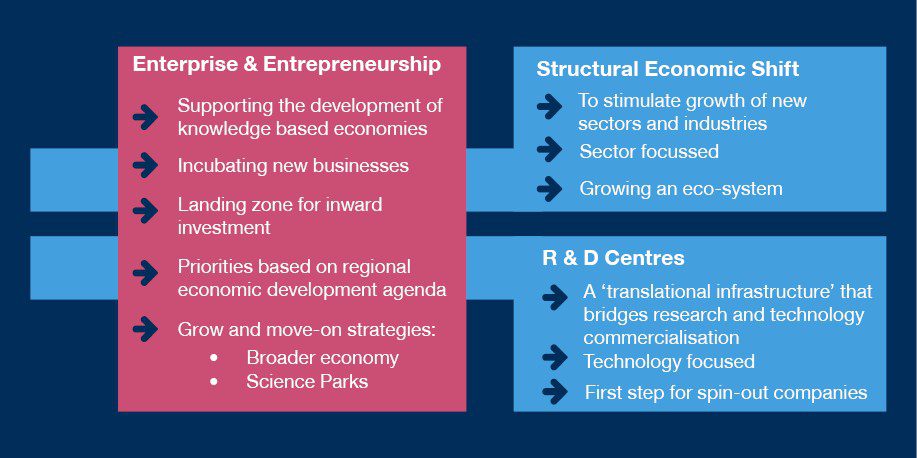 There are a whole raft of other impacts the Nesta research didn't look at that we see in our innovation centres and these go beyond purely job and wealth creation as the infographic from Future Space on UWE's University Enterprise Zone shows.
But, its not just those metrics that we are proud of. Ashton Old Baths in Tameside regularly hosts historic tours, welcoming in local residents to learn more about this iconic landmark. In our UK Space Agency funded OI Space Incubator, we provided 10 week internships for 11 University of Southampton students, giving them unrivalled work experience in early-stage space tech businesses. At Fareham Innovation Centre, we have created a 'sticky' destination for businesses on the Gosport Peninsula, reducing out-commuting to neighbouring cities and providing collaboration opportunities for businesses in the marine, advanced manufacturing and defence sectors.
Jo Stevens, OI's Managing Director and expert in incubation, attended the Nesta research launch. She noted that the Nesta definitions of incubators and accelerators are often merged together and some of the research could and should have gone further to determine the wide spread impact the country's innovation spaces are having.
As the UK's leading innovation centre operator, we will continue to monitor the broad societal and economic impacts our centres AND customers have on their communities.
If you would like to know more about the impact our innovation centres are having on the SMEs we support and the communities they operate in, why not read some of our case studies or contact us by email info.centres@oxin.co.uk
More
July 20th 2023
Mansfields new look
A big thanks to local sign makers Judson Signs who have completed our refresh with new internal and external signage throughout Mansfield Innovation Centre.
June 28th 2023
5 minutes with Enable Life
We spent 5 minutes with Sam from Enable Life, a unique insurance broker firm, to find out more about her and her business.
June 2nd 2023
5 minutes with Kbsa
Kbsa are a not for profit trade association which was established in 1978. We sat down with Dawn Harlow and Hannah Fowler to find out more about Kbsa.