Finalists in the East Midlands Business Awards 2020
September 16th 2020
Mansfield Innovation Centre has been named as finalists for not one, but two awards in this years East Midlands Chamber Business Awards.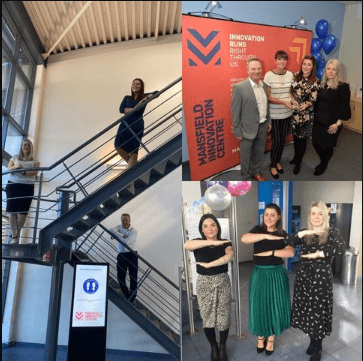 Mansfield Innovation Centre, along with many other workplaces, have had to adapt since the end of March, after Government instigated the COVID-19 lockdown. Home to more than 30 local, growing businesses, the centres main priority was to keep its staff and customers safe.
Staff have worked tirelessly to adapt the workspace to create a safe working environment and to provide customers with peace of mind.
Centre Manager Hannah Hickman said: "To be announced as a finalist in not just one award category but two, is absolutely fantastic and is a tremendous addition to all the hard work the team carry out on a daily basis.
" We are all extremely excited to attend the virtual judging panels over the next few weeks so watch this space. We have such an amazing community here at the centre and it shows through with awards like this."
Find out more about Mansfield IC workspace here and our growing community here.
More
July 20th 2023
Mansfields new look
A big thanks to local sign makers Judson Signs who have completed our refresh with new internal and external signage throughout Mansfield Innovation Centre.
June 28th 2023
5 minutes with Enable Life
We spent 5 minutes with Sam from Enable Life, a unique insurance broker firm, to find out more about her and her business.
June 2nd 2023
5 minutes with Kbsa
Kbsa are a not for profit trade association which was established in 1978. We sat down with Dawn Harlow and Hannah Fowler to find out more about Kbsa.